Builders Defect Liability Inspection


If a practical completion inspecton was not carried out we can attend the home at any stage between the homes completion and up to the end of the builders defect liablity period. Under the Building Services Act 2011 a complaint for faulty and defective work can be made up to six (6) years after the date of the homes practical completion. Many builders refer to a 'structural warranty' covering only structural elements of the home, however the builder's liability extends beyond this and should include all faulty and defective work (does not include items due to wear and tear).
We find significant defect that are often not visible to the eye (we use moisture meters and thermal cameras). One example is moisture leaking into to walls from shower cubicles (including those backing onto bedrooms). This can be a potential health risk and the defect is often expensive to remedy, a cost the homeowner would need to pay if not identified prior to the expiry of the builders defect liability period.
We will inspect the homes exterior and interior including inside cupboards and provide you with an individual building report that is fully described and worded in simple language, which you can then forward onto the Builder.
Pricing
Single Storey Homes $345 fixed price and includes GST.
Two Storey Homes $395 fixed price and includes GST.
Fixed pricing is based on typical project builder styled homes. Refer to our Price List page.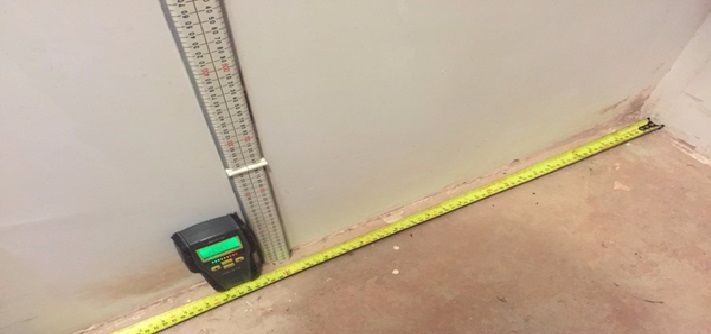 Above: Example of Non-Compliance and Potenial Health Risk (Shower leaking through a masonary wall due to the required waterproofing behind the ceramic tiles not being applied correctly (this home had only been occupied for a period of five months)).