POOL INSPECTIONS MANDURAH
Pool inspections Mandurah we often find modifications make to isolation fencing, gates, or the swimming pools and spas may have been installed without shire approval and inspections from the local authority simply does not take place. In Western Australia there are rules with regard to isolation from swimming pools areas, and the form of isolation that come first to mind for many people is a grille style pool As part of our standard pre-purchase inspections and at no cost, if the property has either a swimming pool, spa or pond we include the form of isolation and confirm its compliance.
Despite the mandatory inspection of pool isolation by the local authority at least once every four years, in October 2019 the Building Commissioner's progress report commented that WA local governments inspected the safety barriers of more than 47,000 private properties during 2018-19. At 30 June 2019, however there were 2,545 inspections overdue compared to 3,632 overdue at the same time the previous year.fence and gate, however depending upon when the pool was installed will determine the minimum form of isolation requirements which has changed over the years and the rules are not retrospect, in some cases an isolation fence is not even required and other forms of isolation apply.
Private homes with swimming pools are the most common form of containing large volumes of water, however the isolation requirements not only apply to swimming pools, they also applies to spas and even ponds that can hold a depth of 300mm water.
NOTE: We do not carry out inspections of pool isolation fencing or earth bonding requirement insepctions without a full pre-purchase building insepction (usually when you are buying an established home).
Swimming Pool Inspections Mandurah
Summary of the Rules Swimming Pool Inspections Mandurah
The rules apply to private swimming or spa pools including in-ground and above-ground pools (including inflatable and portable pools); in-ground and above-ground spa pools (but not spa baths that are normally emptied after each use); and bathing or wading pools.
'Climbable clothesline when folded down'
Climbable objects such as rocks, plant pots, tree branches, penetrations within walls, proximity of folding clotheslines, and the like must be no closer than a 1200mm radius measured from the top rail of the isolation fence. This is to prevent persons obtaining a foothold to transit over the fence.
Require advice? Contact us or call Darren right now.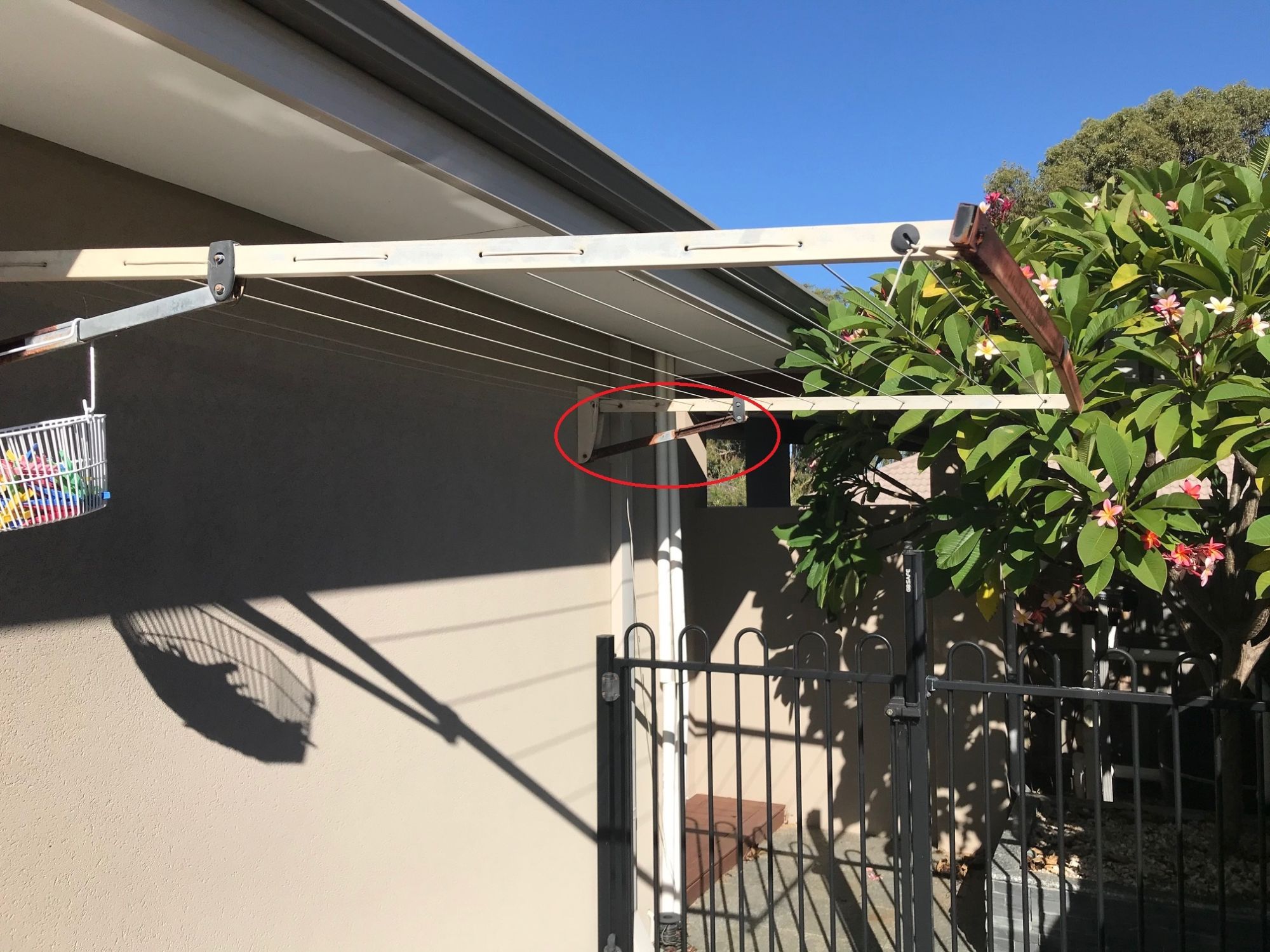 From 1 May 2016, barriers to new swimming and spa pools are required to comply with the Building Code of Australia (BCA). A physical isolation fence must be provided a minimum 1200mm away from any part or the home with the height of the fence no less that 1200mm and with vertical members not greater than 100mm apart. Gates within the fence must be self-closing and self-locking and open out way from the isolation enclosure.
Pre-May 2016 a swimming pool or spas must include, and walls of the home and allocated boundary can be used a part of this isolation, however where there is direct access from the home via a door or window the door and window must be permanently fixed using a device other than a key locking mechanism. Isolation gates must be self-closing and self-locking and open out way from the isolated area.
Prior to 5 November 2001 There is an exemption for a swimming pool or spas installed or approved these do not require a physical isolation fence around the swimming pool or spa itself, the regulations allows walls of the home and boundary dividing fencing to be used a part of this isolation access from openable doors can be used as part of the barrier providing that a door that complies with Australian Standard (AS)1926.1-1993 and there must be a child-resistant doorset and child-resistant openable window both complying with AS 1926.1 (doors self-closing and self-locking and the height of handle installed 1500mm or higher above floor level and windows fitted with devises restricting the opening to no greater than 100mm). Isolation gates must be self-closing and self-locking and open out way from the isolated area.
See our Reference Link below for more information:
Under in Australian Standard AS3000 electrical bonding (earthing) is required to all metal items within arm's reach (1.250m) of the pool or spas edge (metal items including, but not limited to fencing, gates, light fittings, ladders, diving boards, reinforcing mesh within the pools structure, etc), the earthing is to reduce the risk of electric shock from faults that can occur from water circulating pumps and cleaning equipment.
Mandurah - Pool Inspection Service Areas
We offer Pool Inspections and a full range of building inspection services carried out by our highly experienced and qualified building inspector in all suburbs of Mandurah including: Mandurah City as well as Barragup, Bouvard, Clifton, Coodanup, Dawesville, Dudley Park, Erskine, Falcon, Furnissdale, Greenfields, Halls Head, Herron, Lakelands, Madora Bay, Mandurah, Meadow Springs, Parklands, San Remo, Silver Sands, Stake Hill and Wannanup. We also cover Golden Bay, Herron, Karnup, Lake Clifton, Nambeelup, North Yunderup, Ravenswood, Singleton, South Yunderup.
AFFORDABLE BUILDING INSPECTIONS PROTECTING YOUR BIGGEST ASSET!